The Imago Machine (8/21/19) - Six Impossible Things Before Breakfast
on not even wanting to give up your day job (and some announcements!)
the promised announcements
Let's start with the fun things, since this newsletter is somewhat late (I got into a minor traffic accident on Monday and it completely threw off my schedule. Sorry! I am fine. The car is … mostly fine? It was very embarrassing, but as my friend Fran Wilde reminded me, I did not vomit on a traffic cop, so I am doing Okay.)
ANNOUNCEMENT #1:
A MEMORY CALLED EMPIRE
IS NOMINATED FOR A DRAGON AWARD!
I'm delighted to share that A Memory Called Empire is nominated for a Dragon Award for Best Science Fiction Novel. This is really, really cool — I feel very honored to get a nod like this on a debut novel! Sadly I won't be able to make it to DragonCon in Atlanta, but I've asked the brilliant Ruthanna Emrys (whose Deep Roots is nominated for Best Fantasy Novel!) to accept for me on the offchance that I win. Mostly I'm incredibly pleased that so many people wanted to have this book — which I never thought of as being the sort of thing that'd be popular, and continuously delights me that it is — on the ballot alongside things like the newest Expanse novel and goddamn Kim Stanley Robinson. Eee.
ANNOUNCEMENT #2: "THE HYDRAULIC EMPEROR" IS NOMINATED FOR A WSFA SMALL PRESS AWARD!
This one is actually even more special, in a sense — "The Hydraulic Emperor" is my favorite piece of short fiction I've written, and I've already been honored to have it be reprinted in the forthcoming Best of Uncanny. So to get some specific recognition for it like this nomination from WSFA is endlessly lovely. Of course, I almost certainly can't make it to Capclave, either. We'll see, though!
ANNOUNCEMENT #3: SO WE'RE MOVING TO SANTA FE
Why am I not going to these lovely conventions? Because Viv and I are moving across the country. :D :D :D :D Details below.
---
on not even wanting to give up your day job
In the space of time between the last newsletter and this one, the still-slightly-hypothetical job I was waiting on became not-at-all-hypothetical: Viv and I are moving to Santa Fe, New Mexico this fall, so that I can take an extremely exciting policy position with the New Mexico Department of Energy, Minerals, and Natural Resources. (We're moving in stages, because — eek — my start date is Sept. 9, and it'll take us some time to wrap up our lives in Baltimore, so I'll be on my own for the first couple of months. I'm trying to think of it as being the advance landing party, and not about the 'being without my wife for nine weeks', because my god, have I ever had enough of long distance (we started out being in Sweden and Baltimore, respectively, for the whole first year of our relationship).)
The job is pretty much a dream gig. It's the sort of thing I went to urban planning school to be able to do. It's wild that I'm getting to do it so quickly after graduating, and I'm going to throw myself into it as hard as I can. I want to work on climate mitigation and adaptation? Well, hell. Here we fucking go.
Here's the thing about being excited about your new non-writing gig on Twitter, by the way. A whole bunch of well-intentioned humans show up and say, are you going to keep writing? And another bunch of somewhat less well-intentioned humans arrive to add don't you want to quit your dayjob and be a real writer?
Oof.
So.
No, I don't want to quit my dayjob. My dayjob is my job. Writing is also my job. I have two jobs. I care about both of them very deeply. I have made the choice to invest my ambition and energy into two things at the same time. I have absolutely zero plans at the moment to write full time, and while there are some financial considerations in that choice (kids, don't quit your dayjob on one really nice book deal, even if it is really nice; lightning may only hit you once, believing in multiple lightning strikes is bad risk analysis) (also health insurance is a thing, thanks America) — the real reason I'm not planning on being a full-time writer is that I don't want to.
Here's why. First, I'm a person who does well under pressure, in high-stakes situations, with lots of stimulation, new ideas, challenges, having to think around corners. I need schedules and things to do and places to show up and a reason to wear all my gorgeous suits and sheath dresses. I am absolutely terrible at being still for very long. (You may, at this juncture, have surmised that I have ADD. Five points for observation.) So I want to be out in the world. And the kind of out-in-the-world I want to be is, for me, always about getting involved in a hard, complicated question. This was true when I was a full-time academic, when I spent every day thinking about narrative, empire, ideology, and how those things persist over time — and it's really true now that I'm a climate-resiliency planner. I want to have my hands in the (mostly metaphorical) dirt, work on one of the most difficult problems of my generation. I want to be useful.
(And also if I spend much more time not quite knowing what day it is, because lack of schedule, I may scream.)
Given all of that, though: why am I not just doing the quote-unquote dayjob? Why write?
Because I want to, very simply: because stories and narrative are in my blood and inscribed on the meat of my tongue; because I am having a fucking fantastic time and I have so many books I want to write, stories I want to tell, people I want to meet and talk to and think with. Because I love, for all its thousand faults, the SFF publishing industry, the people I have met there. Because I can't stop writing. Because I want to take all those ideas I run into, out in the world being useful, and shake them around inside myself, and see what alchemical process turns them into narrative this time.
I wrote A Memory Called Empire because of what I learned as a Byzantinist. I'm going to write the Untitled Drought/Arson Cyberpunk Novel (jeez, I need a title) because of what I learned as an urban planning student, and what I am going to learn as a working climate-change policy analyst. Because of what the high desert of the American Southwest is going to show me. I write stories because they are, actually, part of the dayjob — or else there's only one job, secretly, and it is to look at the world, see it very well, and try to lend some weight to the wheel of it.
Also I'll admit to shameless ambition. It'd be dishonest not to.
---
six impossible things before breakfast, a how-to guide
All the above verbiage does lead to a certain logical question about time management. As in, how the fuck do you manage it.
I'm not as good at it as I'd like to be, and my methods are idiosyncratic;

There are hard limits to what a person can do, and I've discovered mine, and it was zero fun at all (o children do not do what I have done / and try to finish your second novel, launch your first novel, and graduate from a master's program in the same eight week period / in the house of the rising sun);

(yes I feel bad about the lack of scansion);

Learn to say no even though you spent your twenties saying yes to every opportunity, because there's a point where you've actually amassed sufficient opportunities that saying yes to everything means you do all the things half-assed;

Prioritize by urgency, speed, and desire. i.e. first do what must be done RIGHT NOW; when selecting amongst things that must be done RIGHT NOW choose the one you can do fastest first; when selecting amongst equally-fast things, choose the one that is the most appealing;

… and to systematize (5), I have developed a thing I call the Schedule Hypercube, which is a modified version of Getting Things Done (I always thought GTD was productivity-culture bullshit, but it turns out it's amazingly sensible for how my brain works), cross-pollinated with some of the scheduled-tasks aspects of bullet journaling. It is 95% analog. (I have google calendar but really everything important lives in the Schedule Hypercube, and the online version is for making sure I have a portable checksum on date/time/location for scheduled events.)
the schedule hypercube, a demonstration with visuals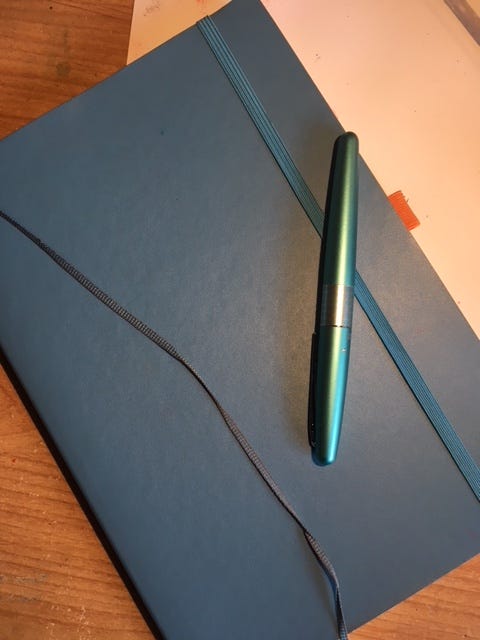 Here's what the schedule hypercube looks like. I'm going to show you an example from April 2019, which was part of the Oh Dear God Why These Three Things At Once period of this spring — because that lets you see the process when it is spun up all the way.
I use a Leuchtterm1917 Monthly Planner With Notebook as my base. I like this because it has a monthly calendar built-in, is fountain-pen friendly, cross-references well, and doesn't lock me in to a particular format of to-do or calendaring on a weekly or daily basis. And it's dot-grid, which I really want — lines reduce flexibility, blank pages make it difficult to keep things feeling organized. (It's also got year-at-a-glance and project planning pages, which I have yet to really experiment with.)
The monthly calendar pages are to tell me about major events, what city I am supposed to be in, and big project due-dates. Here's April 2019.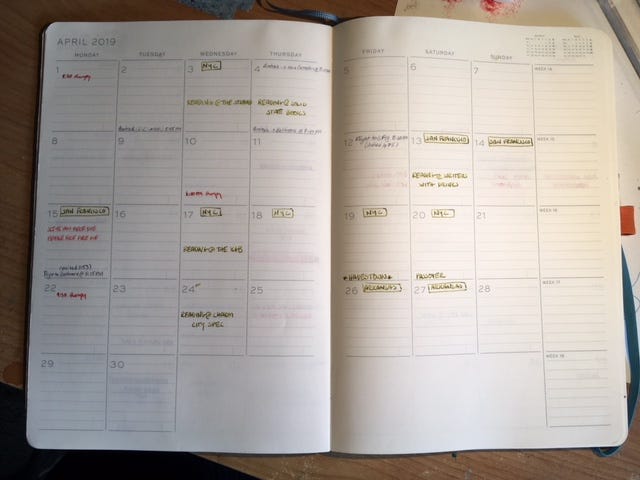 I fill in events and appointments as I know about them. Sometimes I'll add travel or hotel details here; sometimes I won't bother. This is my 'what is coming up' page — I check it every couple of days, and definitely on Monday mornings, which is when I do the set-up for the next week's pages … which happen in the notebook part, not the calendar part. (I find having a set time every week to Do The Schedule Hypercube is very balancing/comforting/stabilizing. Monday mornings are good when your workweek starts on a Monday.)
A weekly page looks like this (here's one week of that same April):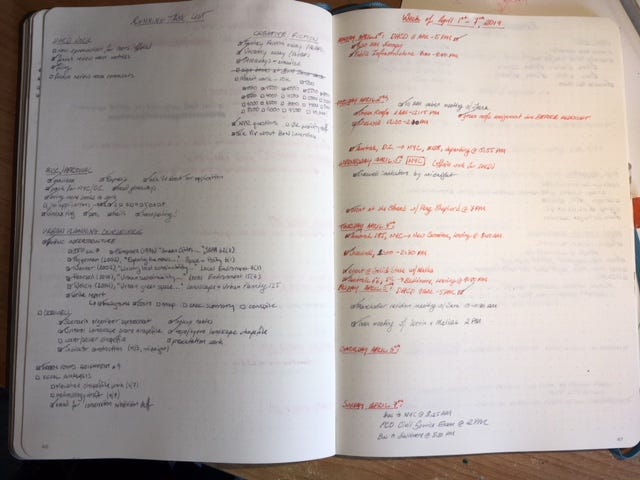 On the left side of the spread, I have a Getting-Things-Done-style Running Task List. I'll set this up on Monday, but it gets added to throughout the week. GTD has the basic principle of 'if you are given a task and you can't complete it in five minutes, write it down'. I don't obey this exactly. But anything that I need to keep track of for more than half a day? Even if it doesn't need to get done this week? That goes on the list. You can also see I divide by category. Here we've got dayjob work (a week that looks superficially light), writing work (you see that I have failed to write 10k words that week, that was a bad goal, I did not repeat it), miscellaneous/personal (which is where errands go), and, because I was still in school at the time, classwork. If there are specific due dates for something, I'll write that down next to the thing — and migrate the due date over to the OTHER side of the spread, which is a day-by-day calendar.
The calendar has a) appointments, meetings, anything with a timestamp; b) projects that have due dates; c) travel and logistical information; d) SOMETIMES specific items I want to do that day.
(Mostly I don't bother with one-day-only to-do lists. They're a recipe for feeling bad, for me, if I mis-estimate my productivity, and I almost always do — better to use the running task list and select what I want to do next from it.)
Appointments also go in google calendar, if I remember to put them there.
I update the weekly spread throughout the week, and one of my last tasks at work on Friday is to start the next week's At Work task list with anything that still needs to be done. Essentially what this does is give me the whole constellation of my life at a glance, without separating it out into buckets. It integrates my two jobs into one unit, and it gives me a sense of control even when I really don't have much, because I can see everything.
It's taken me a couple of years to develop this. But it works right now, somewhat brilliantly well, and it lets me pull off the proverbial six impossible things before breakfast — or be able to tell people I absolutely can't manage them.
---
next week: oracular advice
I hope you're enjoying these newsletter posts. Next week is the last free-for-everyone-intro-month post, and I'm going to do an Oracular Advice segment: an open thread where you can ask me questions, and get peculiar, or possibly useful, answers back. There'll be some prompts. I might do some Tarot, if I feel inspired. Or just natter about publishing, if that's what you all want.
Thanks for being here. Subscribe if you can, and want to — moving across the country is a Process and requires exchanging money for goods and services a bit more than I'd prefer —