The Imago Machine (5/14/20): virtual telepresences - including one tonight!
in which the pandemic has destroyed my ability to write newsletters, but there is much news about awards and virtual places you can hear and/or see me in the next month.
Telepresence — WebEx or Zoom or the endlessness of Microsoft Teams work video-meetings — will never not make me think of William Gibson's The Peripheral. We're not quite there yet: no Wheelie Boys attending meetings in our place, with our projected faces superimposed on their screens. But right now it certainly feels as if we're about to get there.
Which is all to say: like everyone else, I've been staying at home for the past nine weeks while the world slipped out of phase. Plague year, my coterie of writer-friends have taken to telling each other. This is a plague year: all bets are off.
I haven't known how to write about good things, and I'm desperately bored of writing and reading about the pandemic and how it makes us all feel (let us simply leave it as: timelessness is a terrible thing to experience psychologically, and also timelessness is what we need to sit with right now). So I haven't written newsletters. And now I am realizing that I … haven't been telling anyone about the lovely things I am very grateful for, or how you all could stare at me via your computers (or your Wheelie Boy, if you are slightly deeper down the apocalypse curve than the rest of us. You do you.)
So. I will now tell you, with what feels like nearly unbearable awkwardness. Here we go.
---
TONIGHT (MAY 14, 2020) AT 7 PM EST - EREWHON LITERARY SALON
Tonight at 7 PM EST, Viv and I are going to be at the virtual Erewhon Books Literary Salon, reading from our joint work-in-progress novel — a science fantasy political romance between a geologist and a local king, with mass-concentrating minerals, a collapsing interstellar empire, a resource-cursed economy, space malaria, and a semi-sentient crystal formation which may have ill intent.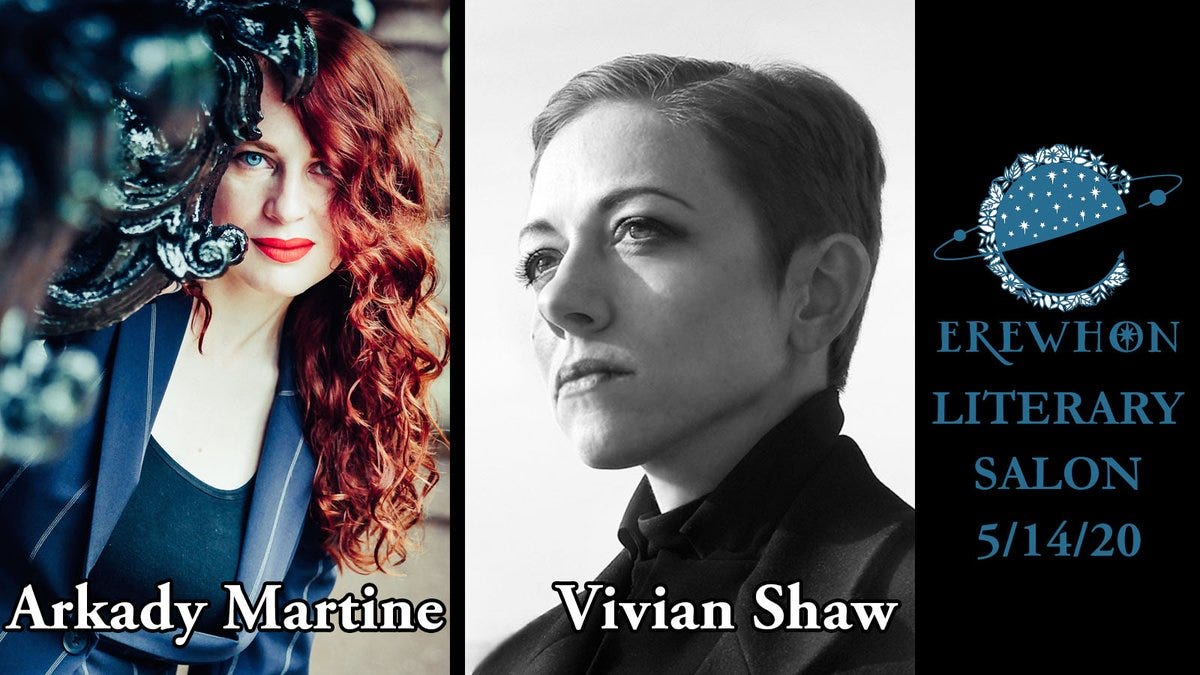 After the reading and Q&A, we'll be at a Zoom party hosted by Erewhon, which you can also sign up to attend.
---
NEBULAS, HUGOS, & THE COMPTON CROOK AWARD
I have the absolutely amazing and somewhat terrifying honor of reporting that A Memory Called Empire has been nominated for both the Nebula and the Hugo for Best Novel.
I'm still trying to wrap my head around the nominations. I'm so glad that this book has found an audience that wants to honor it in this way: these are the genre awards I grew up paying attention to. I'm so immensely proud of the book I wrote, and it is a profound joy that so many of you found it worth nominating.
I also was utterly delighted to learn that A Memory Called Empire has won the 2020 Compton Crook Award, which is given by the Baltimore Science Fiction Society for best first novel in the science fiction, fantasy, and horror genres. I will be the Compton Crook Guest of Honor at Balticon (the BSFS annual convention) for the next two years — which, because Balticon, like everything else, has gone virtual this year, will be 2021 and 2022.
Speaking of virtual Balticon (and virtual Nebulas), though…
---
MORE TELEPRESENCE! THIS TIME WITH PANELS!
I'm participating in both virtual Balticon and the virtual Nebula Conference in the next two weeks! If you're signed up — or want to sign up — this is what you can see me talk about:
BALTICON - MAY 22-25 (ALL TIMES IN EASTERN)
Friday May 22 — 9 PM - So You Want to Build a Galactic Empire (panel)

Saturday May 23 — 12 PM - Kaffeeklatch (open discussion chat)

Saturday May 23 — 7 PM - Science Fiction Has Always Been Political (panel)

Sunday May 24 — 5 PM - Reading

Monday May 25 — 1 PM - Turning the Starship of State: Government in Science Fiction (panel)
NEBULA AWARD CONFERENCE - MAY 29-31 (ALL TIMES IN PACIFIC)
Friday May 29 — 2 PM - C is for Conlang (panel)

Saturday May 30 — 8 AM - Urban Development: the evolution of cities in the 21st century and beyond (panel)

Saturday May 30 — 5 PM - Nebulas Red Carpet (in which I wear a pretty dress)

Saturday May 30 — 7 PM - Nebula Awards Ceremony
---
God willing and the creek don't rise, I will try to write more regularly again; I have missed you, o friends of the newsletter, and letters in the ether are kinder than telepresence in some ways.
Plague year, yo. All bets are off.