The Imago Machine #1: Epistolary As A Collapse of Distance (Cover Reveal, Con Schedules, & Short Fiction)
THE IMAGO MACHINE #1: EPISTOLARY AS A COLLAPSE OF DISTANCE
When I was a more-practicing Byzantinist than I am now, o my friends-of-the-newsletter, I spent most of my time writing about epistolary -- that is, letter-writing -- amongst Byzantine diplomats far from home. Over and over I returned to the concept of the letter as a collapse of distance. A letter brings two people together over time and over space. I am writing this now from Mexico City, where I am attending the Understanding Risk 2018 forum, because I have become a person who does risk communication and disaster planning. I don't know where you are, my friends-of-the-newsletter, but when you read this we are very briefly in the same space, at the same time: the space of the letter.

So: welcome to The Imago Machine, which is a newsletter where I put small pieces of my mind into your mind, for you to do with what you like. (I will also tell you about where I will be and exciting book news and all that sort of thing.)

I enclose to begin with a meditation on epistolary from an academic monograph that I am currently writing, in hopes of showing you what I mean precisely. I am writing here about one of my diplomats (so strange, how we take fond possession of the dead, we historians), Nikephoros Ouranos, provincial governor of Antioch, a long way from home on the edge of empire in the East:
The collapse of distance via epistolary communication – which in the Byzantine case is intimately entwined with the ability of letters to contain a living image of their authors[1] – is especially important in the analysis of Ouranos's letters, since it is through this collapse of distance that he maintained his own cultural ties and ideologies. Many of Ouranos's letters contained impassioned requests for letters written in reply, using language which relied upon the rhetorical trope of letters as a sinecure for absent friends. Letter 1 begins "You give me the full measure of joy by these letters, by writing, just as you gave me joy by being present," contrasting παρὼν and γράφων[2], 'being present' and 'writing', as opposite sides of a balanced parallel structure. Similarly, letter 17's closing sentence, "Therefore speak out fearlessly and send your letters to me densely, so that we may enjoy each other now through them, since we are deprived with regards to the happenstance of eyes,"[3] contrasts the ability of letters to convey the pleasures of friendship with the pleasures offered by in-person communication. Here Ouranos speaks of presence as a lucky coincidence – a συντυχία – which is enjoyable but unnecessary to maintain the bond between two people who are willing to communicate often with one another by letter. Admittedly these letters have to be sent πυκνοτέρως, thickly (by which we can interpret 'often') in order to keep this bond adequately active – and we see that in over 40% of his letters, Ouranos asked or demanded reciprocal letters be sent to him. While epistolary communication could preserve the ties of a previously-existing friendship when the friends were separated over long distances, the collapse of distance via the reception of letters was not simple or effortless; it instead required participation on both sides and simultaneous entrance into an emotionally and rhetorically charged exchange.
---
[1] Paul Holloway, "Portrait and Presence: a Note on the Visio Procli (George of Alexandria, Vita Chrysostomi 27)", in Byzantinische Zeitschrift Bd. 100/1 (2007); K. Thraede, "Grundzüge griechisch-römischer Brieftopik," in Zetemata 48 (1970).

[2] Ouranos ep. 1, ln 1.

[3] Ouranos, ep. 17. "Φθέγγου τοιγαροῦν ἀδεῶς καὶ γράμματά σου πυκνοτέρως φοιτάτω ἡμῖν, ἵνα κἀν τούτῳ οὖν ἀπολαύωμεν ἀλλήλων, ἐπεὶ τῆς κατ' ὀφθαλμοὺς συντυχίας ἀποστερήμεθα."

I hope you will stay with me in this experiment in mutual emotionally and rhetorically charged exchange. I'm glad to share the peculiar space of letters with you, for this brief moment.

---


COVER REVEAL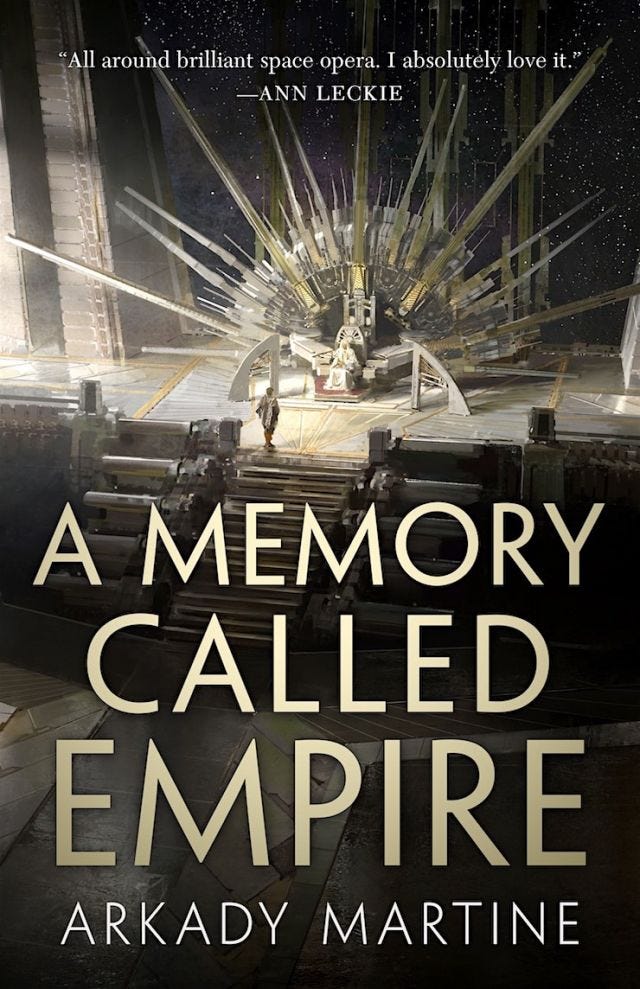 Yesterday I had the absolute pleasure of getting to reveal the cover for A MEMORY CALLED EMPIRE, my debut novel. It was announced (with the kind of complimentary editorial commentary that makes an author blush -- my editor, Devi Pillai, is amazing) on tor.com, over here: https://www.tor.com/2018/05/16/revealing-a-memory-called-empire-a-new-space-opera-from-arkady-martine/

The book's release date (in both the US and the UK) is March 26, 2019. There will be e-book, hardcover, and audio editions, though currently it is only possible to pre-order the ebook (at Amazon and iBooks) -- paper copy preorders and other venues will happen soon, and trust me, the minute those go up I will send you another letter to remind you about them.

I will also have ARCs soon (stay tuned) -- and may have a few Advance Bound Manuscripts while at the Nebulas, about which more below.

---


CONVENTION SCHEDULE, OR WHERE I WILL BE THIS SUMMER
The Nebulas - May 18-20 (Pittsburgh, PA)
I'll be at three days worth of the Nebulas -- I'm missing Thursday, i.e. today, because I am still in Mexico, learning about infrastructure failure and how to talk about it in interesting ways -- but starting tomorrow I will be around for "Makeup for Writers" (11:30 AM Friday), "The Problem With History" (1:00 PM Saturday), and "What Science Fiction Can Learn From Archaeology" (4:00 PM Saturday). I'm also holding 'office hours' on Friday afternoon, in which you can come sign up to talk to me about medieval & Byzantine history and/or structure games at novel-length.

4th Street Fantasy - June 22-24 (Minneapolis, MI)
As ever, I will be at 4th Street Fantasy. This year I'm teaching at the writer's workshop on Friday, so if you're coming and you want to take part and have some professional story critiques from me and luminaries like John Chu, Marissa Lingen, and Django Wexler, we still have some tickets left over here: http://4thstreetfantasy.com/register/

Readercon - July 13-15 (Boston, MA)
I am just at Readercon, not doing anything in particular except deeply enjoying the convention, but if you're there too, I will probably have ARCs by then...

---


RECENT SHORT FICTION
If you can't wait for the novel, there's always short fiction, my first and forever love. I've had the pleasure of publishing two new stories and two reprints so far this year:
---

Signing off from Mexico City, where I am collecting my thoughts about narrative and imagining risk, and how speculative fiction allows for some futures and not others. More on that next time.